---
"Aircraft Deliveries Set to Exceed Pre-Pandemic Levels in 2023" Says International Air Transport Association
"Aircraft deliveries set to exceed pre-pandemic levels in 2023," said the International Air Transport Association (IATA) in its  Economics' Chart of the Week published on March 03, 2023.
Aircraft deliveries are poised for a solid rebound in 2023, with a total of 1,540 aircraft scheduled to be delivered this year, up 300 units (24%) compared to 2022. Where the new deliveries lead to replacement of old aircraft with modern, more fuel-efficient alternatives, they not only improve operational efficiency, but also contribute to a reduction in harmful emissions. On current estimates, aircraft deliveries are set to surpass their 2019-level for the first time since the onset of the Covid-19 pandemic. The largest portion of the year-on-year (YoY) increase in 2023 can be attributed to orders from North America and Europe, whose deliveries are up by a significant 32% and 33% YoY, respectively.
In 2023, North America (primarily the United States) is expected to be the recipient of a third of the deliveries, followed closely by Europe (27%) and Asia Pacific (24%; mainly China P.R. and India). This contrasts with the pre-pandemic trends, where for a number of years Asia Pacific accounted for the largest proportion of aircraft deliveries by some distance (39% share in 2019). That region's delayed recovery from the pandemic – a result of prolonged Covid-19 outbreaks and travel restrictions – is likely to be a key explanation for this development. In light of the recent reopening of China P.R. we might expect it to be a temporary occurrence.
Another important aspect of aircraft deliveries is aircraft type, as it sheds light on airline business model evolution and network development. In 2023, 1,149 (75%) of deliveries are expected to be narrowbody jets – designed primarily for short haul routes – compared to 213 widebody jets (14% of the deliveries). Two thirds of the widebodies are scheduled to be delivered to Asia Pacific and Europe alone. While widebody deliveries are up 28% YoY, they are still lagging their pre-pandemic levels. The delayed recovery in widebody aircraft deliveries is reflected across all regions.
Overall, the rebound in the number of scheduled aircraft deliveries in 2023 provides a promising outlook for the aviation industry, underpinned by a firm commitment and drive to improve the efficiency of its fleet.
Source: IATA Report
Photo Credit: IATA
You may also check our Terms and Conditions for our Content Policy.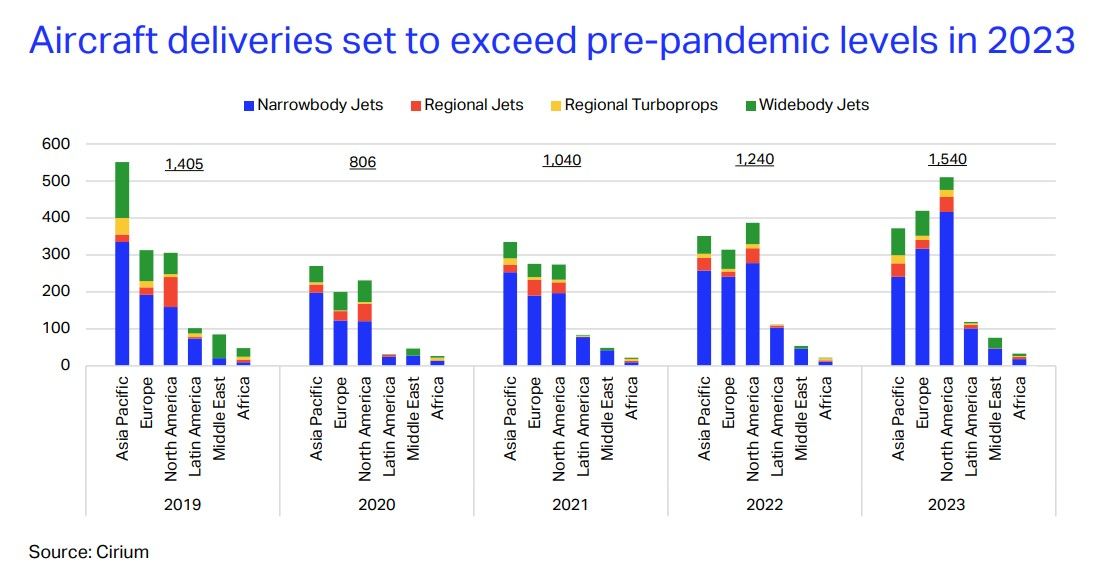 Check out the more than 4843 relevant pilot training industry updates here.
BACK
Pilot Training Industry Market Intelligence straight to your Inbox!

Pilot Training Industry Market Intelligence straight to your Inbox!
Subscribe to AFM's Newsletter and stay up to date with what is happening in the Pilot Training Industry.