---
Alpha Aviation Group Philippines Welcomes 6th Student Pilot Intake of 2022
Another batch of eight (8) cadets were inducted to the AAG Airline Pilot Program (APP), while another cadet was also inducted to the AAG First Officer Preparation (FOP) Program on 22 November 2022. This is the 6th intake for the two flagship training programs since January 2022. Two (2) more intakes are scheduled for January 2023 and March 2023.
In his remarks, Cristopher Magdangal (AAG Regional Director, Asia Pacific) reaffirmed the Group's commitment to develop the most competent first officers for the airline industry. "This is why we employ a cadet assessment tool to measure applicant attributes prior to admission. Your profiles serve as guide for our instructors in coaching and mentoring as you go though your training. This is also why we have adopted ICAO's CBTA (Competency Based Training and Assessment) philosophy across all training modules and phases to better prepare you for a life and career in the airlines," Magdangal underscored.
"The key to a successful pilot training is partnership and communication between cadets and instructors. You need to be very open with your instructors, not letting any lesson pass without understanding the principles behind every exercise," Magdangal added.
The APP dubbed as the "Zero to Hero" program covers CPL-IR-ATPL Theory-A320 Type Rating while the FOP covers CPL-IR. The CPL-IR phase is delivered by the AAG International Center for Aviation Training (AICAT) stationed in San Fernando Airport, La Union while the A320 Type Rating phase is conducted at the AAG Philippines (AAGP) Simulator Training Center in Clark Freeport Zone, Pampanga. AICAT operates the largest fleet of basic flight trainer aircraft in the country (32 Cessna C172 and one Tecnam P2006T multi-engine) while AAGP also operates the largest and most-advanced fleet of simulator training devices in the country (three FFS, four FBS, one IPT).
Source: AAG Philippines Press Release
Photo Credit: AAG Philippines
You may also check our Terms and Conditions for our Content Policy.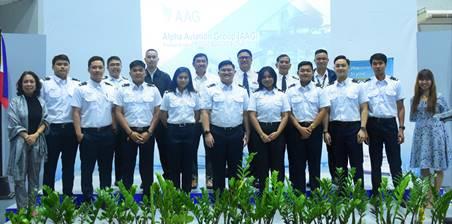 Check out the more than 4831 relevant pilot training industry updates here.
BACK
Pilot Training Industry Market Intelligence straight to your Inbox!

Pilot Training Industry Market Intelligence straight to your Inbox!
Subscribe to AFM's Newsletter and stay up to date with what is happening in the Pilot Training Industry.