---
Alpha Aviation Group Seals Partnership with Holy Angel University
The country's premier aviation training solutions provider formally sealed a partnership with one of the biggest universities in Central Luzon on 14 July 2022. Alpha Aviation Group (AAG), through its subsidiary – the AAG International Center for Aviation Training – Maintenance Training Center (AICAT-MTC), signed a Memorandum of Agreement (MOA) with Holy Angel University (HAU) for an On-the-Job Training (OJT) Program for the university's B.S Aeronautical Engineering students.
The agreement covers execution of OJT programs that will enable trainees to gain first-hand experience and better understanding of the concept and practical application of critical aeronautical engineering learning areas like airframe, power plant, avionics, among others. To ensure that the learning objectives will be met, AICAT-MTC's team collaborated and co-worked with the
university's instructors and heads in crafting the training plan. "We recognize that a safe and a sustainable industry recovery can only be realized if players in the industry will work together
in training and developing highly skilled, competent, resilient, and world-class aviation professionals. Our doors at AAG are always open for collaboration and partnerships- an
approach we've been practicing and advocating ever since," said AAG's Regional Director for Asia Pacific, Mr. Cristopher Magdangal. "We see this partnership with Holy Angel
University as a great opportunity to continually champion, share, and advocate 'world-class' aviation training", he added
Source: AAG Announcement
You may also check our Terms and Conditions for our Content Policy.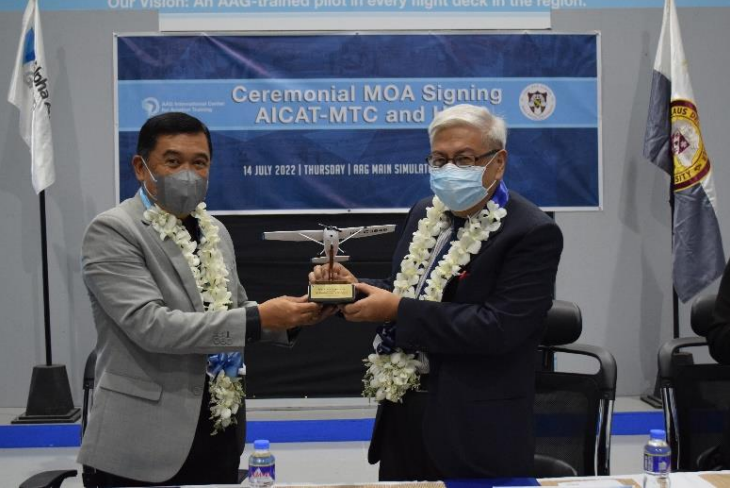 Check out the more than 4137 relevant pilot training industry updates here.
BACK
Pilot Training Industry Market Intelligence straight to your Inbox!

Pilot Training Industry Market Intelligence straight to your Inbox!
Subscribe to AFM's Newsletter and stay up to date with what is happening in the Pilot Training Industry.