---
EZSims and Aviation Training Foundation Partner for a New B99 Aviation Training Device
EZSims is incredibly pleased to finally announce for the first time a strategic partnership between two players in the flight simulation industry. EZSims is a provider of world class software development solutions for the flight simulation industry. Aviation Training Foundation specializes in stunning in house, made in the US hardware manufacturing for a wide range of aircraft types from small single engine aircraft to larger twin jets like the Phenom 300 and Cessna Citation Mustang. The collaboration efforts between these two companies will yield a stunning training platform that will be used by pilots to stay proficient and current with their training making the skies a safer place for everyone.
COO and Co-Founder of Aviation Training Foundation LLC Michael Hawrylak said, "The Flight simulation industry has had a large gap in the market for quite some time. Truly advanced and realistic flight simulator training devices were only accessible by larger carriers or organizations and wealthy individuals. With the changes in technology, software, and manufacturing, and partnerships such as the one with EZsims we are now able to offer high end solutions at a much more affordable price point, bridging the gap for flight schools, charter companies, small carriers, and even aircraft owners and pilots who want to remain proficient in their own aircraft. Imagine being able to purchase a simulator that match's your own aircraft to the letter, and practice from home, without the risk and cost of flying the real aircraft. With the addition of Financing programs, we are now able to offer these trainers to a much wider range of customers than ever before."
Both companies are extremely excited to be installing one of these systems for customers in quarter 1 of 2023.
Aviation Training Foundation was founded in 2015 and has built stunning flight simulation hardware along with Part 147 school maintenance trainers for aviation maintenance technician schools.
EZSims role in this project is to provide highly realistic simulation software which includes the development of all engine gauges, first of its kind G600 TXi glass cockpit and custom Flight Instructor Operating Station that can interface with existing Learning Management Systems (LMS).
This partnership with Aviation Training Foundation will allow ATF to use EZSims software for a full replica Beechcraft 99 training device. Aviation Training Foundation will develop every switch, knob and dial found in the B99 with exacting detail so that the pilots using the system will feel at home when they step inside the real aircraft.
Source: EZSims and Aviation Training Foundation Joint Press Release
Photo Credit: EZSims and Aviation Training Foundation
You may also check our Terms and Conditions for our Content Policy.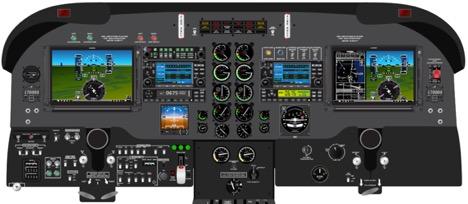 Check out the more than 4142 relevant pilot training industry updates here.
BACK
Pilot Training Industry Market Intelligence straight to your Inbox!

Pilot Training Industry Market Intelligence straight to your Inbox!
Subscribe to AFM's Newsletter and stay up to date with what is happening in the Pilot Training Industry.