---
More than 200 Airline Career Aspirants Attended Leading S.E. Asian Pilot Training Group Orientation
More than 200 airline career aspirants attended the last leg for 2022 of Clark, Philippines Pilot Training Group Alpha Aviation Group's (AAG) trademark Airline Pilot Career Orientation (APCO) held on 10 December 2022 at the AAG Philippines Simulator Training Center.
In a survey conducted during the activity, an overwhelming 116 out of 146 respondents signified intentions to undergo AAG's Airline Pilot Program (APP), a full-time cadetship course covering CPL, IR, A320 Type Rating, and ATPL Theory. "This is definitely a clear indication that the aviation industry in general and the pilot training industry, in particular, have made significant progress in regaining the public's confidence and headed to a steady recovery," noted Cristopher Magdangal, AAG's Regional Director, Asia-Pacific.
Joining online from Dubai, Maximillian Buerger, Managing Director of AFM.aero, provided an in-depth analysis on the effects of the COVID-19 pandemic on global pilot demand and supply, and airline hiring trends around the world. Also joining online from Singapore was Eric Leong, Embry-Riddle Aeronautical University (ERAU) Asia's Manager of Professional Education and Training who discussed about the Graduate Certificate in Aviation – Asia Focus which ERAU is currently offering in collaboration with AAG.
In another survey participated in by some 120 respondents, the following emerged as the top-5 considerations in choosing a pilot school:
Technology (e.g standard/quality of aircrafts, simulators, classrooms, instructional equipment, other amenities)
Safety record (history of incidents/accidents)
Price/cost of training
Training Philosophy (e.g how training program is designed and aligned with global standards)
Influence in the industry (e.g partnership and network with airlines and other industry players)
Other highlights of the APCO included an inspiring discussion on "Women in Aviation" advocacy by Capt. Ernestine Marie Noveloso, formerly of the Philippine Airlines and currently taking AAG's Synthetic Flight Instructor Course (SFIC); one-on-one career coaching with AAG's training team; tour around the facility; and discovery flights on the A320 FBS and Cessna C172 G1000 FBS.
Source: Alpha Aviation Group (AAG) Philippines Press Release
Photo Credit: Alpha Aviation Group (AAG) Philippines
You may also check our Terms and Conditions for our Content Policy.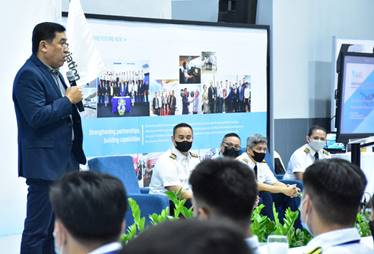 Check out the more than 4142 relevant pilot training industry updates here.
BACK
Pilot Training Industry Market Intelligence straight to your Inbox!

Pilot Training Industry Market Intelligence straight to your Inbox!
Subscribe to AFM's Newsletter and stay up to date with what is happening in the Pilot Training Industry.