---
Padpilot Launches New ATPL-Helicopter Theory Books
Pilot training publisher, Padpilot, has announced the release of the first ATPL-H ebook series written from scratch for helicopter pilots.
The company, whose aeroplane theory books downloads have now reached 270,000, has turned their attention to creating dedicated theory books for commercial helicopter pilots. 
"For too long, helicopter pilots have had to use theory manuals adapted from aeroplane notes, rather than having their own, dedicated content. We decided to correct that, creating new interactive ebooks specifically written for rotary aircraft and their pilots." said PadpilotMD, Graham Cownie. 
Padpilot's team of subject matter experts has written brand new content specifically for helicopter pilot training, while the in-house graphics team has created thousands of new illustrations, animations and 3D models of helicopters and their component parts. 
The series of 16 books is fully compliant with the updated EASA syllabus and, with all the interactivity and contextual learning students and instructors have come to expect from Padpilot, it's the most up-to-date, advanced commercial helicopter theory series on the market.
"These helicopter ATPL books are excellent, and desperately needed in a training environment where so many resources are based on fixed wing theory" said Jakob Dingemans, AW169 SFO.
Resources for training providers 
For ATOs and other training providers offering commercial helicopter pilot training, Padpilot offers tailored packages of teaching and learning resources for students and instructors, learning management systems, and compliance and technical support.
Instructor classroom presentations for all ATPL-H subjects are now available. Editable slide-sets that mirror the Padpilot book content make planning and teaching ground school straightforward and thoroughly up to date.
Padpilot ATPL- H book features: 
Download and keep for life
Study Aids included (highlight, search, notes, revision cards)
Interactive 3D models, animations and video explanations
Extra Insights explain how the theory applies to the aviation world.
Case Studies throughout

 

Threat and Error Management (TEM) flags show common threats/errors

 

Learning Objective summary at the end of each chapter

 

Interactive quizzes at the end of each chapter

 

Suitable for modular and integrated student pilots
Download just one subject or the complete series
Next generation training
In 2011, Padpilot launched the first aviation theory books for the iPad. Since then, as technology has developed, they have become more sophisticated, interactive and immersive. 
Padpilot's philosophy has always been to create books that assume no prior knowledge but deliver a holistic pilot education that's entirely up to date – and in a way that's relevant to the next generation of pilots. In this way, Padpilot books are suitable for all. Knowledge and understanding of the syllabus build incrementally though the course, with many of the more complex concepts explained visually. 
The new Helicopter books contain thousands of explanatory graphics, videos, and 3D models that can be explored in VR and AR (virtual and augmented reality), help bring ATPL theory to life. 
'Education alongside training' philosophy

Within each chapter, the main content explains the theoretical knowledge needed for the exams, and for modern operations. There also a range of side-bar features, one of which is called Connect the Dots. Tapping on it reveals optional, additional information which allows students to see how the knowledge and understanding they're currently studying relates to other areas of the theory syllabus. Plus, importantly, how it relates to operational practicalities.
At the end of every chapter, summary pages revise the Learning Objectives and interactive quizzes allow pilots to review their learning and practice thousands of questions from the new syllabus.
The Padpilot philosophy is one of pilot 'education' alongside the training. The publisher believes pilots must understand – and be taught – the 'why' as well as the 'what' of aviation theory in order that understanding, as well as knowledge, is embedded throughout a student pilot's training. Memorising question bank answers, they say, will not produce the safest aviators. 
Padpilot ATPL-H book titles:
Advanced Instrumentation

 

AGK Airframes and Systems

 

AGK Electrics
Air Law
Basic Instrumentation
Communications
Engines And Transmissions
Flight Planning
General Navigation

 

Helicopter Performance
Human Performance
Mass and Balance
Meteorology
Operational Procedures

 

Principles of Flight
Radio Navigation
Source: Padpilot Press Release
You may also check our Terms and Conditions for our Content Policy.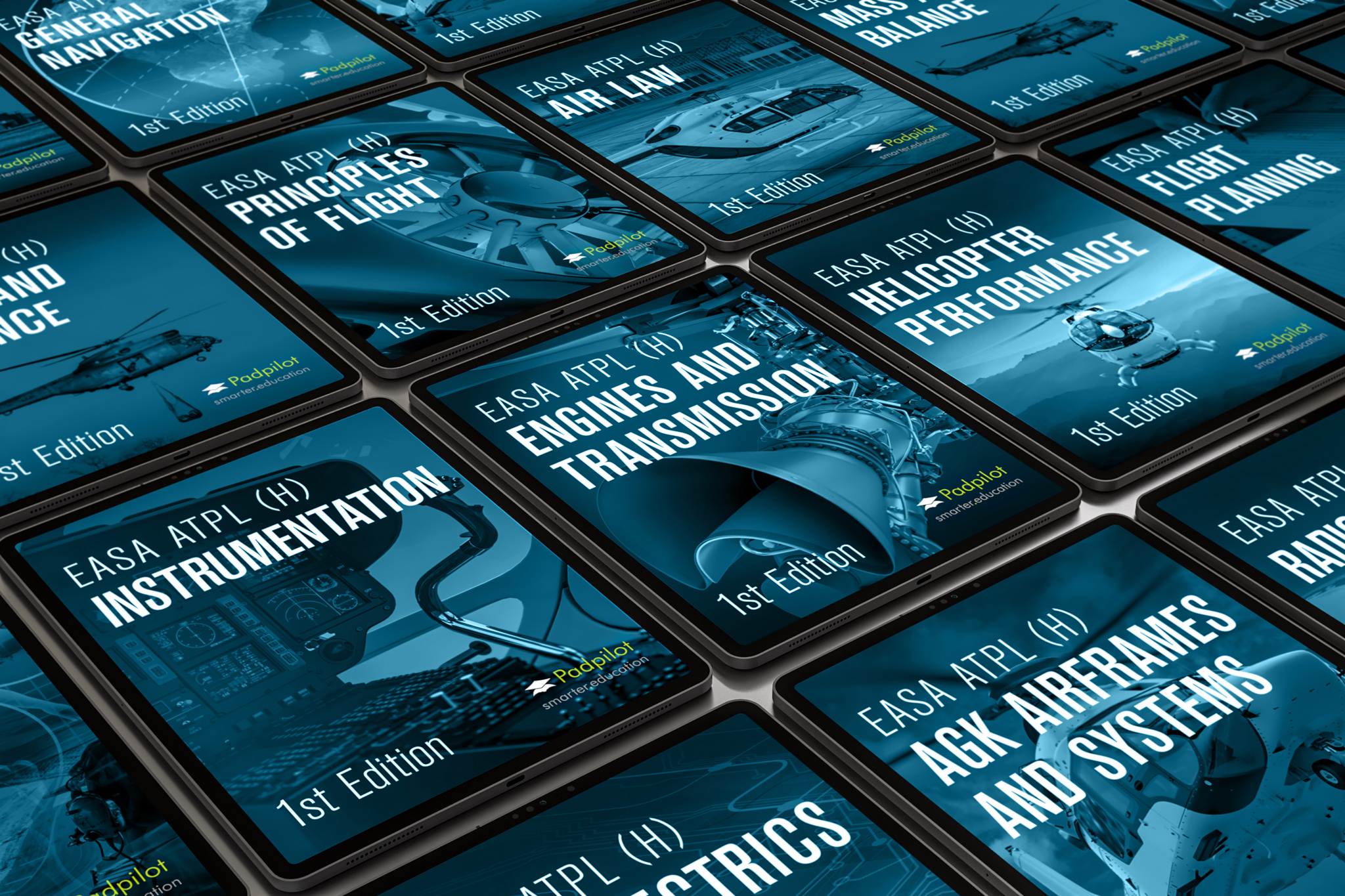 Check out the more than 4132 relevant pilot training industry updates here.
BACK
Pilot Training Industry Market Intelligence straight to your Inbox!

Asia Pacific |
26th Jan 23
Pilot Training Industry Market Intelligence straight to your Inbox!
Subscribe to AFM's Newsletter and stay up to date with what is happening in the Pilot Training Industry.