---
Top Gun Movie Results in Record 'Become a Pilot' Search Engine Traffic
The Hollywood Movie 'Top Gun: Maverick' has broken numerous box-office records, is one of the most popular movies on a number of streaming platforms and has resulted in the highest search trend for 'Become a Pilot' and 'Become a Fighter Pilot' in the last two decades (data reviewed back to 2004).
Below the Google Trend is seen for 'How to become a Pilot' worldwide – for a more extreme graph check out this LinkedIn Post.
The increase in interest is being captured by a number of pilot training organisations including;
US Air Force – Maj. Gen. Edward W. Thomas, commander of Air Force Recruiting Service, told Fox News the military would use Top Gun: Maverick to boost recruitment. A similar phenomenon was seen during the first release of Top Gun during the Cold War. "We did get a good recruiting bump from 'Top Gun' in 1986 when I went to the theaters and saw 'Top Gun' with my friends in '86," Thomas said. "I was already excited about military aviation, but I got even more excited. "We expect 'Top Gun: Maverick' to do the same," he added. "You know, whether people want to aim high or fly Navy, we just want them to get excited about serving the nation in some capacity."
You may also check our Terms and Conditions for our Content Policy.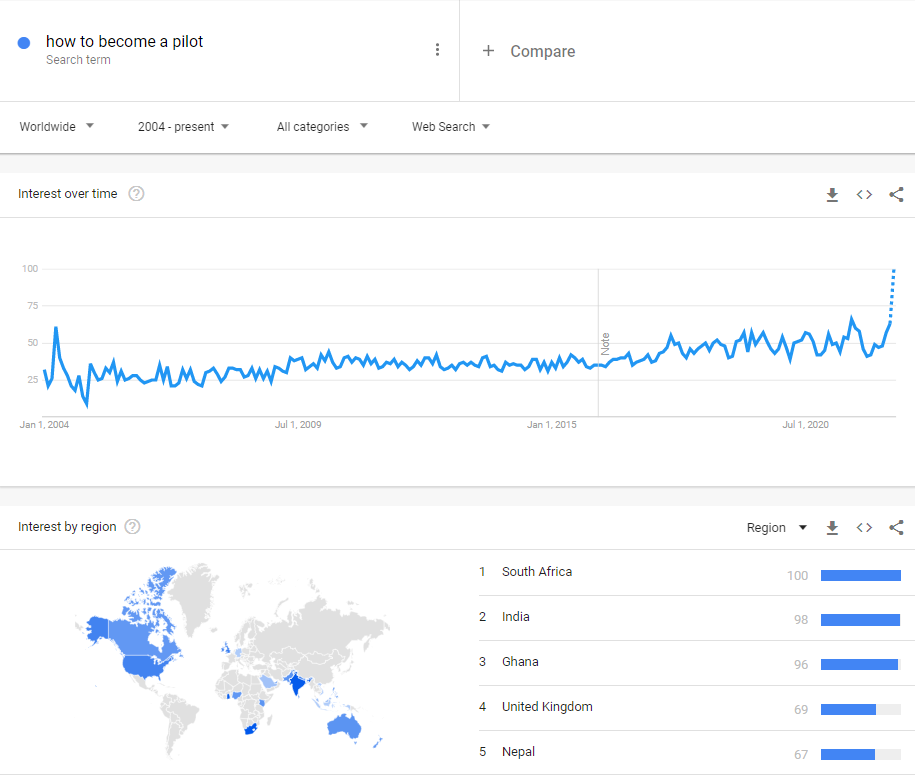 Check out the more than 3661 relevant pilot training industry updates here.
BACK

Middle East |
09th Dec 22
Pilot Training Industry Market Intelligence straight to your Inbox!
Subscribe to AFM's Newsletter and stay up to date with what is happening in the Pilot Training Industry.