---
US Pilot Simulator Training Center's Vice Chairman Shares Perspective on Industry and its Acquisition of 8 Simulators
Paramount Aviation Services Vice Chairman, Stephen Vella, has crafted a fascinating article on his perspective on aviation flight training. Check out the statement below (source).
"The airline industry is going through a sea of change in airline training as a result of the confluence of various notable influences:
The return of traffic growth after the Covid-induced travel collapse,
The proliferation of the use of the digital commerce and the resulting strain on the distribution system, particularly the required growth of cargo airlines,
The pilot retirement "bubble" that commenced before Covid but was exacerbated by the pandemic,
The hesitance of young people to pursue pilot careers with a consequent strain on the supply chain,
The rollover of fleets with new generation aircraft (737Max, A320 Neo, A350 and 787) requiring multiple fleet transitions for existing pilots and recruitment of new ones,
Increasing mobility of pilots between airlines as scarcity drives up wages and improved employment terms and lifestyle,
Unwillingness and/or inability of the aircraft manufacturers to invest in flight training infrastructure to meet the rising demand,
In a strained financial environment, the airline principal focus on operational optimization and profitability rather than investment in the supporting infrastructure, whether people or facilities, that are required to cope with the rapidly changing environment.
These factors are shaping the flight training industry. What are the ramifications of such changes on flight training businesses?
Summarizing Customer Behavior Trends:
Like in the airline industry, flight training is increasingly concentrated on a small number of large players like CAE, Flight Safety International and L3Harris. Increasing company size drives market dominance but often less personal connection with customers and their needs.
Consequently, if a new entrant wants to succeed, they must offer a value adding selling proposition.
Airline executives are busy people who are forced to deal with voluminous communications. Focused and accurate communication between customer and supplier is essential.
Customers not only have greater training demands, but they also want their demands to be heard – suppliers ignore this reality at their peril.
Customers want quality products and reliable services at a fair price. Market dominance can lead to price gouging and slow service which in turn presents opportunities to nimble new entrants.
During pressured times, customers' training expectations are escalating and the failure to meet these expectations from the larger suppliers leads to consideration of value-focused, reliable alternatives.
Customers are now much more discerning and demand products and services tailored specifically to their needs, delivered rapidly and reliably to specification. However not all airlines are that efficient when it comes to managing their flight training needs so flexibility on the part of the training facility is essential.
Historically, some airlines have been hesitant to pay a premium for training services that deliver the expected value and quality. When training demand is high many airlines may have no option but to take what they can get not what they expect. A new entrant will need to offer the highest standards at the market rate in order to capture new business.
A key differentiator in gaining market is the reputation and legacy of the training facility's management team. Past business relationships, quality customer service, reputation and reliability still matter very much as do how the supplier performs when the inevitable "road-bumps" are encountered. Airlines always expect their training partners to have their back, rain or shine.
In return, training facilities require assurance that their airline partners subscribe to the same philosophy of long-term commitments and loyalty rather than shopping around for the lowest price.
Some people question why Paramount Aviation Services chose to relaunch its training business at the start of the Covid pandemic. The answer is surprisingly simple.
Paramount was concerned at the rapid consolidation of the flight training industry and the evident pushback of its previous customers to the behavior of some of the existing independent flight training suppliers.  We saw an opportunity to offer a product that returned to the basic of good customer service, high technical standards, flight simulator types that were or would be in high demand and a business relation that was "win-win" for both customer and supplier. Then it was just a case of putting together the necessary pieces to deliver this product within as short a ramp-up time as possible.
A major advantage was our ownership of a purpose-built, high-quality training facility with 12 simulator bays, ample classrooms and briefing rooms equipped with modern media systems, offices and parking facilities on the perimeter of Miami International Airport located between the Airbus and Boeing training facilities and within walking distance of many airport hotels.  Not a converted warehouse but a state-of-the-art facility ready to roll.
The second was a ready commitment on the part of the shareholders to invest significant equity in the relaunch at a time when the banks were in trepidation on the possible effects of the pandemic.
And finally, the belief on the part of the key executives, based on a well-researched business case, to commit to the onerous task of launching a business during turbulent times.
In the twenty-seven month period since launch on the 16 September 2020, Paramount has acquired a total of eight Boeing, Airbus and Dassault full flight simulators.  It also counts with three large carriers amongst its passenger and cargo airline clients from North and South America. Some have booked time on multiple simulators simultaneously.
So what accounts for Paramount's success?
Detailed market research and viability analysis are the cornerstone of our success.
Paramount has figured out how its customers perceive value and has clearly communicated the value proposition relating to its products.
Paramount has a realistic understanding of its market positioning and how it can deliver of its customer's needs within the resource available to it yet assure profitability and acceptable cash flow.
As always, Paramount has majored on outstanding customer service as a means of attracting and retaining customers.
Well managed implementation of its business plan underpinned by highly experienced in-house technical and operational people, monitored by an executive team each with decades of relevant experience in flight training and aviation related business management.
Paramount strives to minimize complexity, maximise flexibility and above all ensure fairness and prompt turn-times in all that it does, particularly in its contracts.
Finally, we have a culture of care, discipline and innovation honed by many transactions. Each of our simulators is a unique business case with a well-defined mission and structure. With performance metrics that are monitored constantly.
None of this is rocket science; it is the basis of good business, but it is surprising how often it is neglected by suppliers in the current business environment. Our customers seem to like what Paramount is doing. High simulator utilisation is ample testament to the very positive reaction from the marketplace.
Look out for Paramount's continued growth and imminent ground-breaking deals!"
Source: Paramount Aviation Services
Photo Credit: Paramount Aviation Services (shown as meta image)
You may also check our Terms and Conditions for our Content Policy.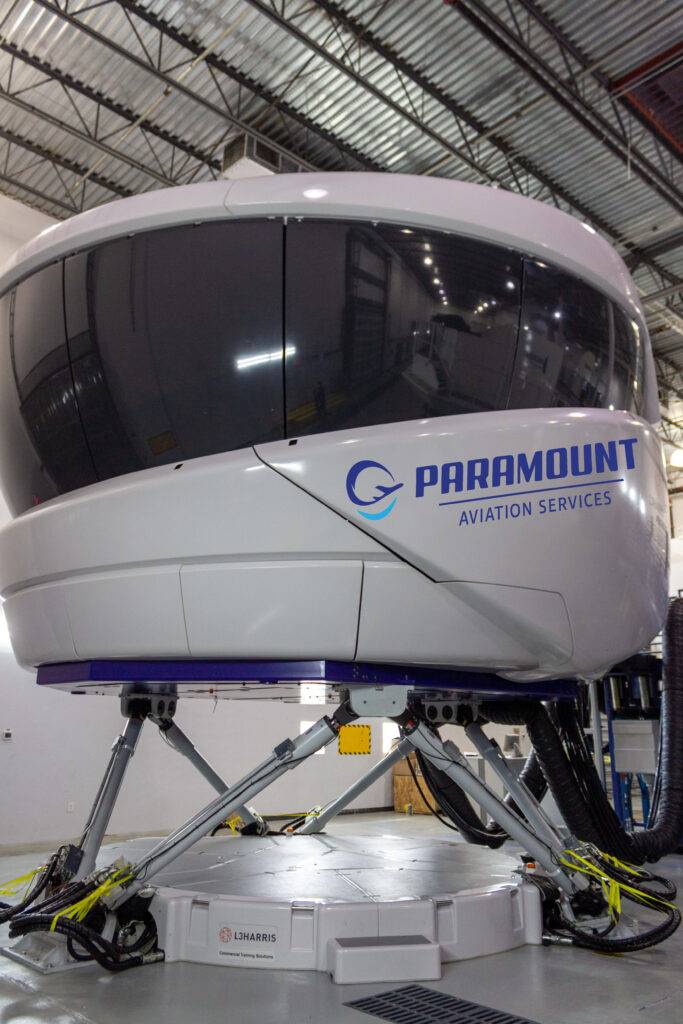 Check out the more than 4137 relevant pilot training industry updates here.
BACK
Pilot Training Industry Market Intelligence straight to your Inbox!

Pilot Training Industry Market Intelligence straight to your Inbox!
Subscribe to AFM's Newsletter and stay up to date with what is happening in the Pilot Training Industry.