---
Global Air Traffic is Now at 70.8% of pre-Pandemic Levels – International Air Transport Association
International Air Transport Association, the trade association of the world's airlines, has shared data on total traffic for June 2022 (measured in revenue passenger kilometers) – showing a strong recovery with global air traffic now at 70.8% from pre-pandemic levels.
Global domestic traffic in June 2022 was 81.4% of the June 2019 levels.
Global international traffic in June 2022 was 65% of June 2019 levels.
"Demand for air travel remains strong. After two years of lockdowns and border restrictions people are taking advantage of the freedom to travel wherever they can," said Willie Walsh, IATA's director general.
The highest growth percentage in terms of air traffic was seen between June 2021 and June 2022 in Asia Pacific with a number of countries easing travel restrictions.
Source: IATA
Photo Credit: IATA
You may also check our Terms and Conditions for our Content Policy.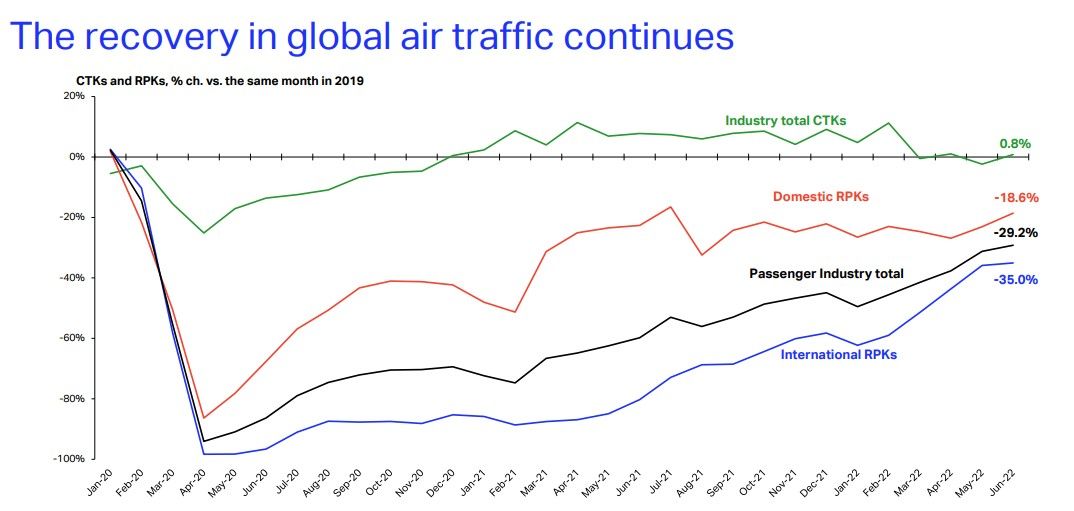 Check out the more than 2826 relevant pilot training industry updates here.
BACK

Middle East |
25th Sep 22
Pilot Training Industry Market Intelligence straight to your Inbox!
Subscribe to AFM's Newsletter and stay up to date with what is happening in the Pilot Training Industry.